Deep Drawn Metal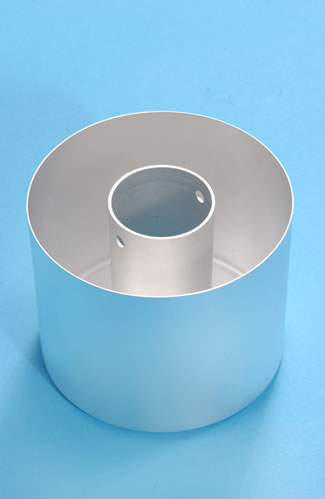 Redrawn Housing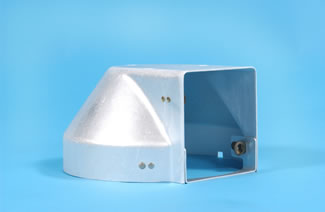 Aircraft Housing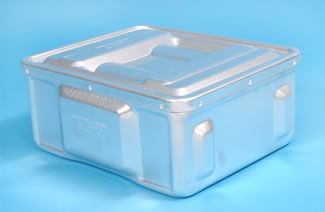 Carrying Case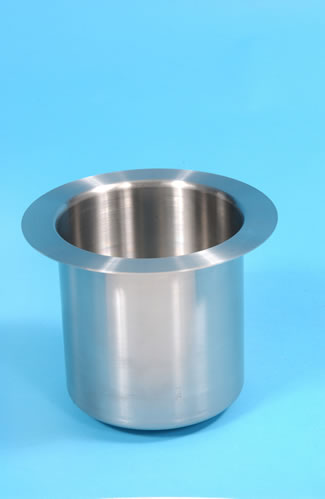 Inconel Pump Housing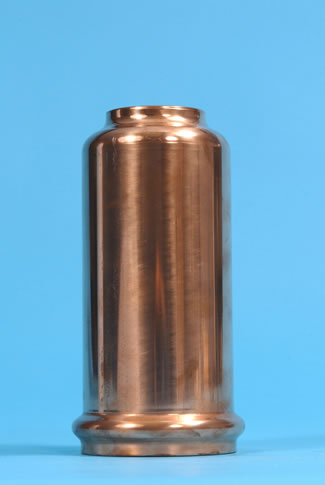 Copper Housing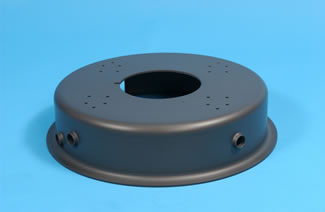 Black Anodized Housing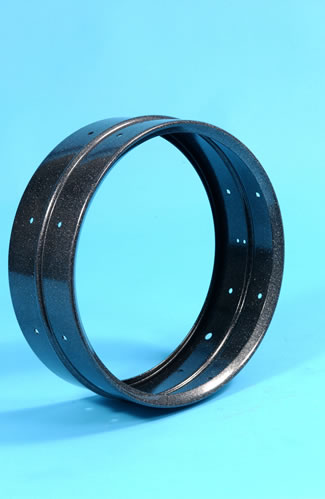 Snare Drum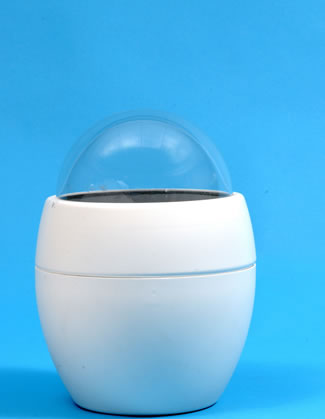 Security Camera Enclosure
At JH Nunn we stock tools and dies that enable us to produce over 500 standard sizes of round cans ranging from 0.370" to 24 " in diameter.  We also have standard tooling for 350 square and rectangular boxes ranging from 0.375" x 0.750" x 1.25" OAH to 15 "x 18.5 "x 9.6" OAH. This inventorying of tools means that customers can order any of these standard Deep Drawn Enclosures and avoid tool and die charges while greatly shortening lead times. However when tooling is required, we do all our own tool work.  This minimizes costs and expedites deliveries.
Deep Draw Forming is the process of forming a metal part around a punch that is drawn through a die.  The rapid advancement of the outer edge of the material as it moves toward the center is controlled by a blank holder or sleeve. Since there is only a limited distance the metal will flow in one operation, by using a redraw the Deep Drawing process can reduce the diameter and increase the height of a previously drawn shell.  Redrawing makes it possible to manufacture a seamless enclosure with a high strength to weight ratio and with metal grain flow following the contour of the part in an endless variety of dimensions.
Deep Drawn Enclosures offer exceptional resistance against stress cracking and tearing.  Since there no seams, porosity or gaps, as in welded or braised enclosures, they are exceptionally good in RFI, EMI & EMP shielding. Deep Drawing is an excellent process when the enclosure must hermetically seal its contents from the environment.  Deep drawn enclosures are used to seal electric transformers and military field radios, as well as the housings of security cameras exposed to the weather.
We have a fully integrated facility that offers all the capabilities required to design, develop and ship completely finished and ready-to-use parts to our customers.  Capabilities and equipment include: Engineering and Design Services, Testing Services, Tool and Die Making, Deep Drawing, Hydroforming, Spinning, Stamping, Dip Brazing, Heliarc Welding, Spot Welding, Riveting, Heat Treating, CNC Machining, Anodizing, and Painting.  This vertical integration eliminates both the lost time and increased costs incurred when a Deep Drawn Enclosure must be transferred to a subcontractor to be processed.  If you have a complex requirement for Deep Draw Forming, we would like the opportunity to be of service.  We're proud of our 30+ years of experience.  Our customers have made our company grow and we're happy to count them as our friends.
Contact JH Nunn for deep drawn metal products, or for more information.